It has only been few months since this small place along Gallares street has opened but the Boholanos have already been hooked to the mouthwatering shawarma that they are serving. They may have only been occupying a small place but the line of customers who want to try their shawarma has been getting longer.
Location:
Gallares Street corner B. Inting Street, Tagbilaran City – in front of Galleria Luisa
We were in Galeria Luisa with my girlfriend when we spotted a group of people who were waiting outside of a small place. That was when I remembered that we were infront of the popular shawarma in Bohol. I heard this store in Bohol months ago but I was not able to visit the place right away. A lot of Boholanos have also posted their experiences and how satisfied they were with the shawarma.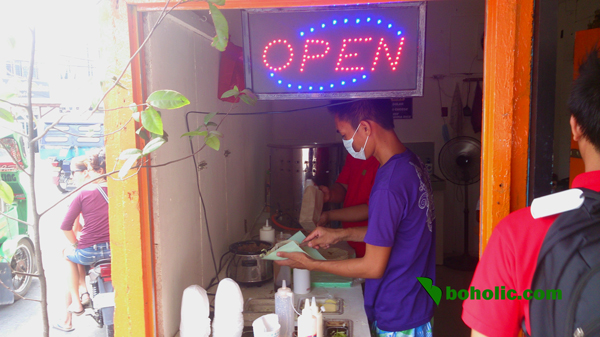 With the eagerness to try the best shawarma in town, we cross the Gallares street to get into the shawarma place. There were around 5 people who were making their orders and some were waiting to be served. While waiting for our turn to get the orders, I observed that at a small place they were able to maximize their space. They already have the office wherein the owner could make his inventories, the storage of the ingredients of the shawarma and the place where the shawarma has been made and served.
Babeng's Shawarma is made of cabbage and other vegetables, beef, onions and sauce and wrapped in a shawarma wrapper (flat bread). They served the shawarma in a paper and clean cellophance so that the sauce will not get messy.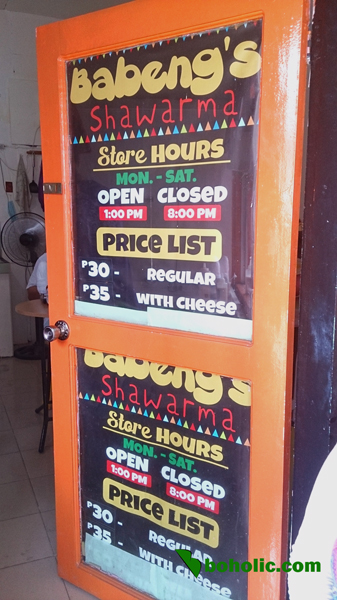 When it was already our time to order, we had 3 orders of shawarmas with cheese. Since the two of us are not fun of spicy flavor, we asked the attendant to make the shawarma less spicy. So, he added a little of the spicy flavor. In just 2 minutes, we already have the shawarma. We delayed our excitement to eat the shawarma a little longer since we need to meet my sister who was in BQ Mall at that time. We ate the shawarma together inside the BQ Mall. The spicy flavor, cheese and all the other ingredients blended so well. The shawarma was very delicious that made my girlfriend to crave for more. We decided to be back at the shawarma place righ after BQ mall.
When we returned at the shawarma place, a lot of people has already been lining up to be served. That was a manifestation that Babeng's Shawarma has been gaining popularity in Bohol. We may not be able to have extra orders of the shawarma but we will definitely be back at Babeng's Shawarma.
Babeng's Shawarma is very addictive. I highly recommend this place to all the Boholanos and to all the visitors in Bohol. Try their delicious shawarma!